Let's face it, trying to get sponsors is like trying to get a job. You create proposals (essentially, your resumes and cover letters) and you blast them out to whatever company or job you're interested in and pray and hope that you get a reply for an interview or that you make it to the next stage.
Similar to job hunting, securing sponsors have their own tips and tricks. And we're here to share with you our insights from working in the sponsorship matching industry for 5 years (wow, honestly can't believe it's been that long!).
We know that getting sponsors are enough of a challenge and when you combine that with the virtual event setting, it poses an additional obstacle. Say goodbye to your usual offerings of "physical spaces for companies to do branding and outreach on-site" and say hello to getting slightly more creative in what you can offer.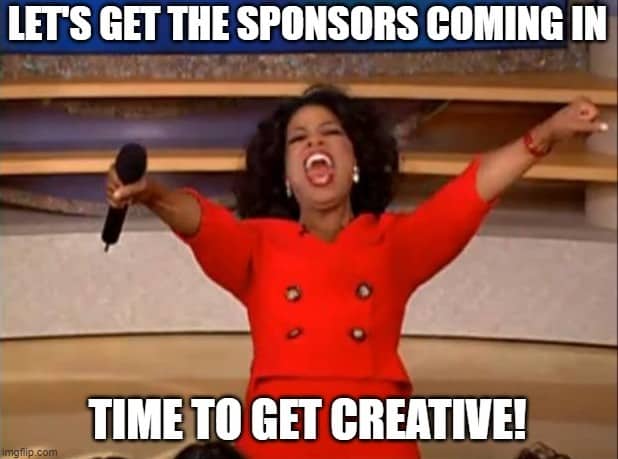 Do note that all these tips would apply regardless of whether your event would be happening online or it's some time in the future when life is back to normal and you can have physical events. Some of these may already be part of your sponsorship packages and that's great but there may be some that could do with a little bit of creativity.
The Necessary step. If you skip this, do not pass go and do not collect $200.
Before we jump into the ideas, take a step back and breathe. Have a meeting with your committee on a couple of things regarding sponsorship partnerships. We've prepared a couple of questions that you would need to think through.
By doing so, it'll save you a bit of work going back and forth and it'll lead to an overall tighter and more put-together proposal for sponsors.
What exactly do you need sponsors for? What kind of sponsors do you want? Put together a list of sponsors that you really really want. This list will tell you which companies you should definitely put in more effort to get. Do a bit more work on their proposals, research them a bit more, be more intentional and targeted with your proposal.
What can you offer? List everything down. Be sure to check with both your team and your higher-ups on what is allowed and within your capabilities to deliver. For example, don't promise that you can provide 500 participants for their lucky draw when you know your engagement rate isn't anywhere near able to provide the numbers. However, do note that experienced marketing staff already know to account for attrition of expected return and they've probably given something that they know (and believe!) that you can achieve. If you really think it's out of reach, ask to meet in the middle. But don't lowball.
Where's the data? What's are your numbers? Companies just love hearing numbers and if you can provide the stats from the beginning, you'd be helping them to get a better picture of your event. This better picture would help them to better work out their marketing budgets. Remember that even if you're asking for their products, the marketing team will still need to pay the sales department for that item. Just 'cus it's within the company means it be free, y'all.
Offering Digital Sponsorships
The concept of digital sponsorship and online mileages are nothing new. The usual ones you're probably used to offering is things like logos and shoutouts on your club's social media accounts. And these are typically combined with other physical branding mileages for the sponsors (things like brochures or booths).
Now that the physical mileages are more or less off the table, you're now able to hone in and focus on the digital promises. But don't just stop at the logos and shoutouts. If you do, you're kinda screaming that you're not answering the essential question of: "Why should they sponsor your club/event?"
Now remember, the one thing companies and brands love more than sales is stats and their Return on Investment (ROI). Fortunately, most, if not all, of the possible digital sponsorship means provide the tools necessary for you to be able to provide them with such numbers. P.s. This means there's no reason for you not to be able to provide the numbers 😉
Essentially, in order to figure out what are the possible ways you can entice sponsors, think about every single part of your audience's journey. Whatever they can see or that they can interact with? That's an opportunity.
Take some notes because it's time to bring out the examples and ideas. And boy, do we have quite a lot. 
Doing a livestream? IGTV? A video? Great! Sell some advertising space.
Depending on your livestream platform and how you'll be running your livestream, you can incorporate some shoutouts and promotions for your sponsors. There's so many things you can do here but let us just name two.
Branded Transitions 
Use transition time between slides, speakers or sessions. If you're doing a presentation, add some branded slides with logos. Have full screen ads to thank and feature your sponsors during the breaks that your audiences are already tuning in.
General tip: less text. More images. Get photos of their products or whatever else they'd like to market. Think of this as a twist on the usual "event shoutouts/mentions".
Take a page from YouTube
You know those ads that appear before, after and during YouTube videos? They're all sponsored and as you know, companies do pay for sponsored ads on such platforms. Taking that idea, you could then monetise your orientation content as well.
This may be less feasible, depending on your platform of choice but you could always edit your videos before posting it online as well.
Tip: Know the general specifics of your platform and communicate with the sponsor the specifications of your platform. You don't want to be that person that has "runs" a horizontal ad during an IG Live recording.
For both of the above ideas, do check up on the options that your platform and delivery mode of choice is able to provide.
To mimic the similarity of your "booth space at event" sponsorship feature, you can also offer for your sponsors to have their own "breakout rooms" during your event. Some ways you can implement this are as follows:
Set a specific date and time for all your participants to come online and join the livestream. During the event, create Breakout rooms (for example, Zoom has this feature) and allow your participants to break into and join "rooms" to interact with the sponsors.
Schedule each of your sponsors to a dedicated date and time to run their own livestream, maybe using your account or you can host the livestream and they'll be joining as a guest. Make sure to publicise and try to encourage your freshies to attend their livestreams. This is a very easy way for you to prove your ability to deliver in the sponsors' eyes.
Let's face it, this is a classic. We all know the "we'll feature your logo on our social media" promise very well. And while, yes, that may be enough to get some companies on board, remember that mileages like "logo feature" are pretty basic, so much so that it's customary for you to include their logo whenever they sponsor you for anything (unless they specifically state that they don't want it). This section however tackles how you can give them increased value and higher ROI for sponsoring your event.
Logo Feature and Dedicated Write Up
Firstly, try to automatically give them the logo feature on social media. Maybe they'll share the eyeball space with other sponsor logos but it's the least you can do. As an upgrade, you can provide a write up on their services and why your students should go follow them/use their services/etc.. Since you're on the topic of a write up, you can also create a post that's dedicated to them. With that poster of theirs on your main feed, along with a dedicated write up, this would certainly increase the number of eyes glossing over them as well as the chances they would click in to learn more or even take up the products/services. I'm sure your sponsors will see more value in this and appreciate this option on the table.
Giveaway Collaboration with Sponsors
Let's talk about having more contact points between your freshies and sponsors. You can organize a giveaway or contest collaboration with your sponsors. It could be with your key sponsor or in collaboration with multiple sponsors. You can choose to organise this before your orientation begins and it'll help increase the awareness and familiarity with the sponsors. Your sponsors can also start building connections early on and have a better footing with the freshies during any sponsor engagement activity or mention during the orientation.
Sponsor and Freshies Engagement Activities
Another option you can explore to more creatively rope in your sponsors is to have your sponsors join in the orientation games and activities with your freshies. This will be a very good way for them to get comfortable with your freshies in a fun and casual setting. Allowing them to take the lead in the games will surely provide them more interactions than just participating as a member. So talk to your sponsors and see if they're up for the challenge!
What's even more attractive than a physical welfare pack in such times? A virtual welfare pack! On top of your physical items that your members will be able to get, have your vouchers and gift cards all go online! Pack in additional new items such as a free trial to a software or online course. Offer your sponsors the choice to have their online services and products to be packed into this virtual welfare pack and they may even get to track the usage of their promo codes and sieve out their best selling items. 
We've walked you through a couple of examples and ideas that we've got up our sleeves and now it's your turn to rack your brains on what you're gonna be taking in and putting into your orientations to offer your sponsors the best advertising value and ROI. Remember, engagement between your sponsors and freshies is key.  
With that being said, let us help you through this process
ICYMI, Allforu is a platform that connects student clubs and organisations such as yourself to sponsors and vendors. Based on your event needs and what you can offer, we'll help you to craft and reach out to sponsors on your behalf. During this blog post, we've ideated some ideas that you can use to approach sponsors for better collaborations, leading to an equally high win-win situation between both parties. It still remains a lot of work and we're here to help. Think of us as a collective Business Manager or Marketing department helping all organisations across various institutions. 
We currently have a couple of ready sponsors on board who are looking to provide sponsorships such as giveaway prizes and e-vouchers, plus we're always constantly at work to find more. Reach out to us on Telegram @afu_so, slide into our Instagram DMs or click the red button below to let us know how we can help you to secure sponsors that are genuine, willing and on-the-ball to reach out to student audiences. 
Boost your Sponsorship Capabilities
Helping you to achieve a win-win situation for your club, event, students and the sponsors.
It's never been so easy.
Liked what you read? Learnt something? Share it.
STALK US. JOIN IN THE FUN.