Let your friends know what you read
Ever since the announcement was made on 21st April 2020, the whole nation (at least for singapore) went into a frenzy. No its not having DORSCON level to red. Its the closure of most bubble tea stores due tightening of social distancing and circuit breaker measures . Singaporeans love for bubble tea is next level and the closure of it has caused huge panic and even panic buying. I know Singaporeans are crazy over bubble tea but i never thought they would be THIS crazy!
However, popular bubble tea chains have since managed to go online or partner up with other food establishments. Bubble tea stores that sell hot food items are also allowed to sell. So, there isn't really THAT much of an issue. But, if you:
Are Feeling bored
Have Not enough money to get delivery
Don't want to spend so much money
Feeling inspired
Aspire to run a bubble tea chain
Wanna do something basic and don't require much effort
Or any other reason that i don't know…. You can continue reading this article to learn how to make 5 simple bubble tea recipes that you can make at home. Why 5? So you can have 1 drink every single day to satisfy your sweet tooth. 
This article also includes where you can get the ingredients (as we all know everyone decides to become a baker during this period and most baking goods are out of stock)! But first, we must know the basics, which is how to make the bubble tea tapioca pearls. You can skip this part if you choose not to have it.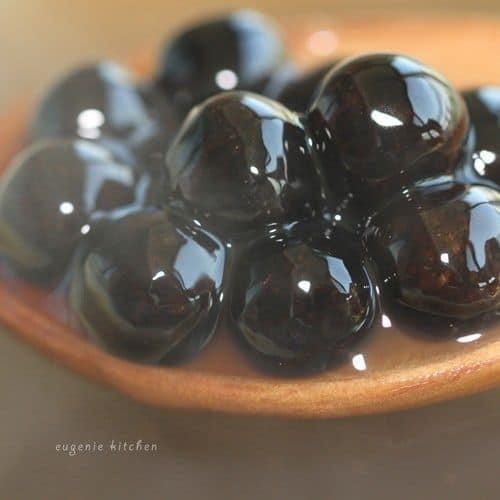 Ingredients (Yields two servings):
Six tablespoons of tapioca flour/ tapioca starch
Two tablespoons freshly boiled water
Black food colouring
Sugar syrup (optional)
Method:
-Place tapioca flour in a bowl. Place black food colouring in a separate bowl and add a tablespoon of hot water. Add the rest of the water directly to the tapioca flour.
-Pour coloured water into the bowl of tapioca flour as well. Mix the tapioca flour and water with a fork until they stick together.
-Transfer to a flat surface and knead until the dough becomes smooth.
-Separate the dough into two equal portions and roll each of the portions to form thin sticks. Cut them into small, even pieces and roll the pieces into small balls.
-Bring two cups of water to a rolling boil in a small pot.
-Add the pearls to the boiling water and let it cook for 15 minutes or longer until the desired consistency is achieved.
-Remove from heat and let it rest for a few minutes. Transfer tapioca pearls into sugar syrup or a bowl with a little water to prevent them from sticking together. Serve with choice of drink.
brown sugar tapioca pearls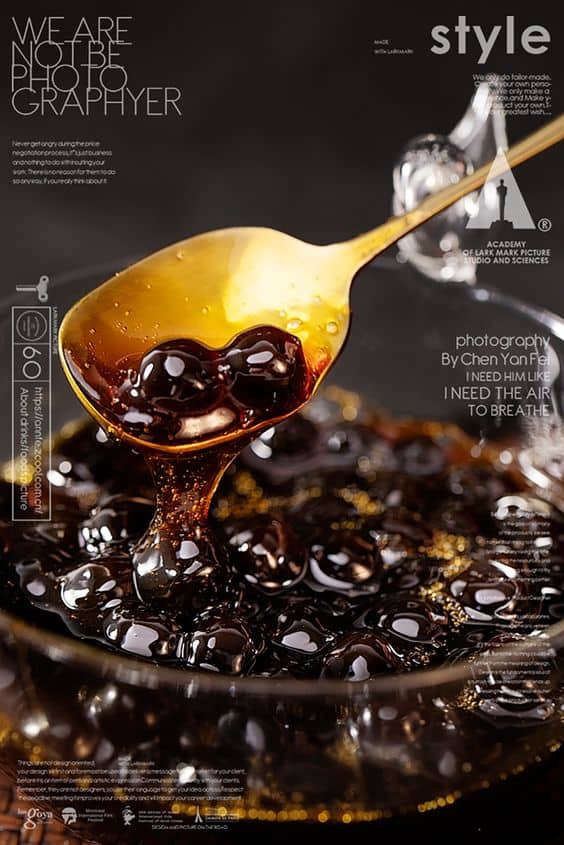 For the brown sugar bubble tea pearls
120g tapioca flour
70ml water
50g dark brown sugar
For the brown sugar syrup:
240ml water
110g dark brown sugar
Method
sift the tapioca flour into a bowl in order to eliminate any lumps. In a small saucepan, bring the dark brown sugar and water to a simmer on low heat, then stir in the tapioca flour using a heatproof rubber spatula
Cook your brown sugar tapioca dough over low heat for five minutes, making sure to constantly stir to keep the bottom from burning. Then, turn the dough out onto a clean and heat-proof work surface.
Then portion your dough into four portions and roll each portion into a string. Cut the strings into equal, bite-sized pieces and roll them into little spheres. Dust your uncooked brown sugar bubble tea pearls with more tapioca flour. This keeps them from sticking to each other. Set aside until ready.
Boil water in a large pot and cook the pearls for 20 minutes while stirring constantly. Once ready, ladle pearls into a bowl of ice water to stop the cooking process. Prepare your brown sugar syrup by bringing your water and brown sugar syrup to a simmer over low heat. Then, simmer the cooked brown sugar pearls in the syrup for 20 minutes.
Now, here's the 5 simple recipes. Which we searched all over the internet for you guys!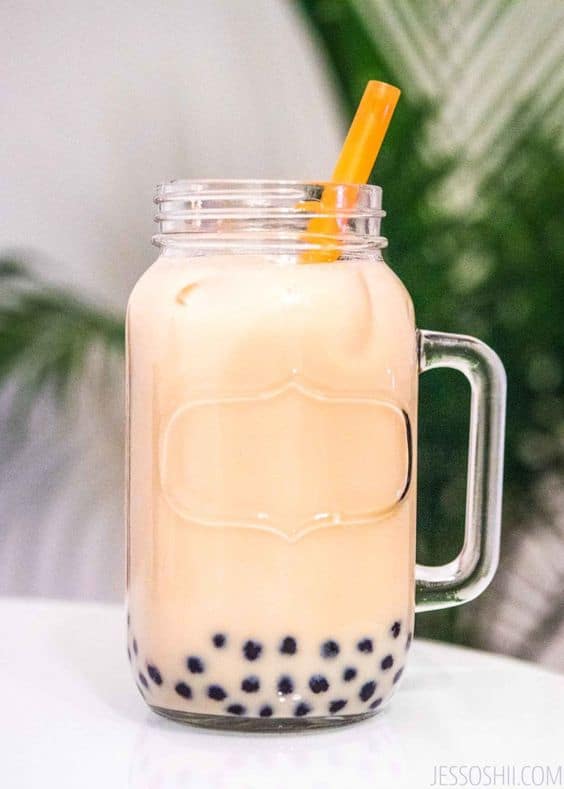 Ingredients (yields 4 servings):
Four cups of hot water
Eight black tea bags 
Whole milk to serve (or any milk of your choice)
Method:
Steep the tea bags with hot water. Let the tea sit in water until it cools completely or until desired tea flavour is achieved.
Add milk and ice to taste.
If needed, add sweetener of choice to taste.
But if you're going to make this, you might as well buy teh peng from your nearest coffee shop and add in the pearls yourself  right?
2. Passionfruit fruit green tea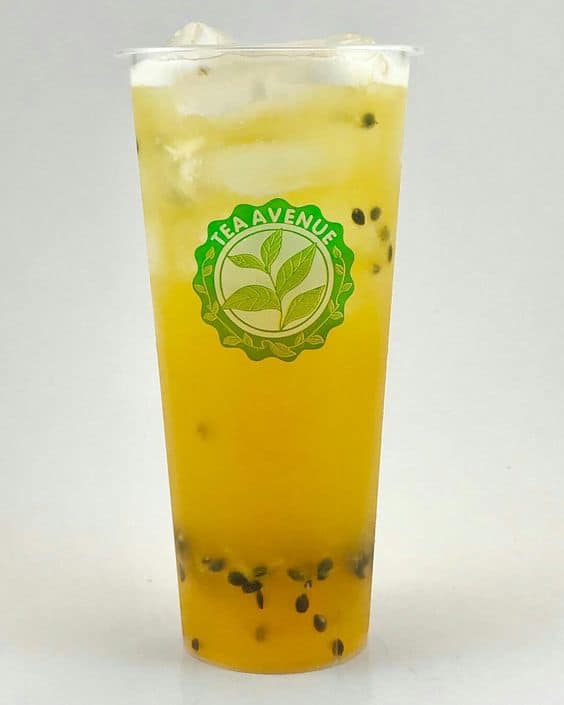 Ingredients (yields 2 servings):
Three bags of green tea
Water
1/3 cup of passion fruit syrup (alternatively, can use about two to three passion fruits and sweeten with sugar)
Method:
Brew green tea for eight to 10 minutes.
Remove green tea bags and let the tea chill in the fridge.
Upon chilling, mix passion fruit syrup with green tea.
Serve with ice.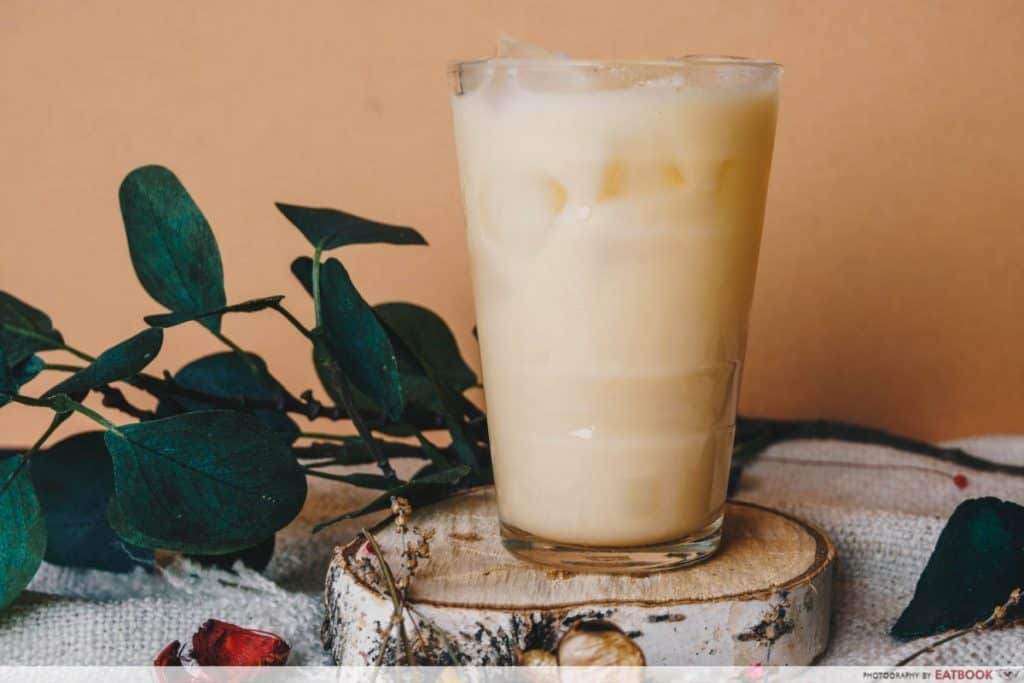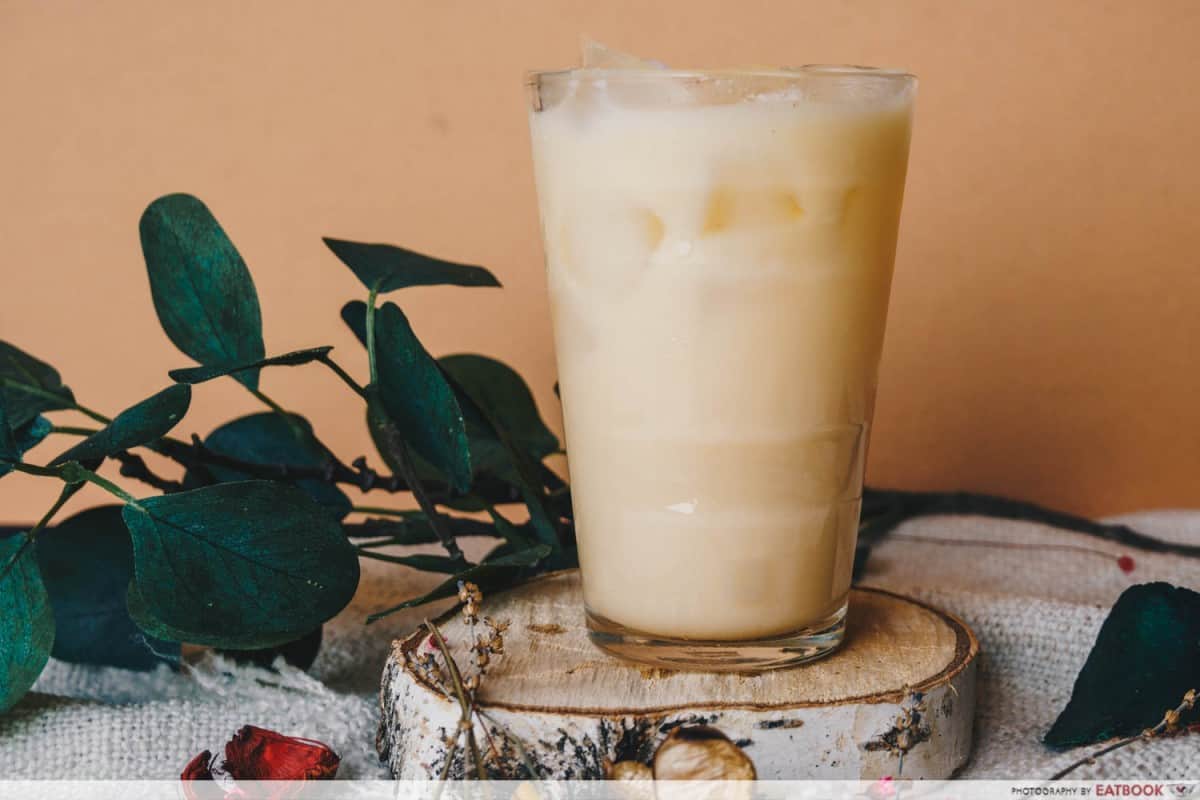 Ingredients (yield 1 glass)

65ml Yakult or preferred probiotic drink (chilled)
150ml sugar-free green tea (chilled)
2 teaspoons sugar syrup Ice (as desired)
Method:
Add ice into a cup.
Pour Yakult, green tea and sugar syrup into the cup.
Shake well before consumption.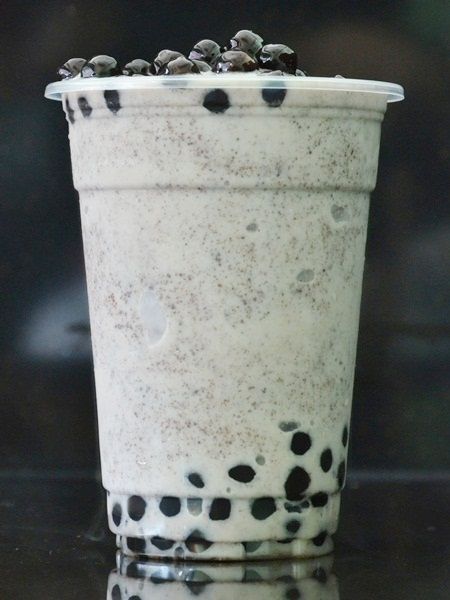 Ingredients (yield 1 serving)

1 tablespoon crushed Oreo cookies
1⁄4 cup chocolate chips
1⁄2 cup water
1⁄4 cup fat-free half-and-half or milk
1 -2 tablespoon sugar syrup
2 -4 tablespoons prepared tapioca balls
1 cup ice (16 oz)
Method

Melt chocolate chips in the microwave for about 20 seconds, stir then microwave for another 20 seconds. Mix 1/4 cup of water with melted chocolate until sauce is formed.
Mix crushed oreos with 1/4 cup of water.
Crush ice until partially crushed.
Pour all liquids into the blender and blend on the highest setting until all remaining ice chunks are crushed.
Place tapioca pearl at bottom of tall glass and serve with bubble tea straw.
Of course , not forgetting the famous brown sugar bubble tea
5. Brown sugar royal milk tea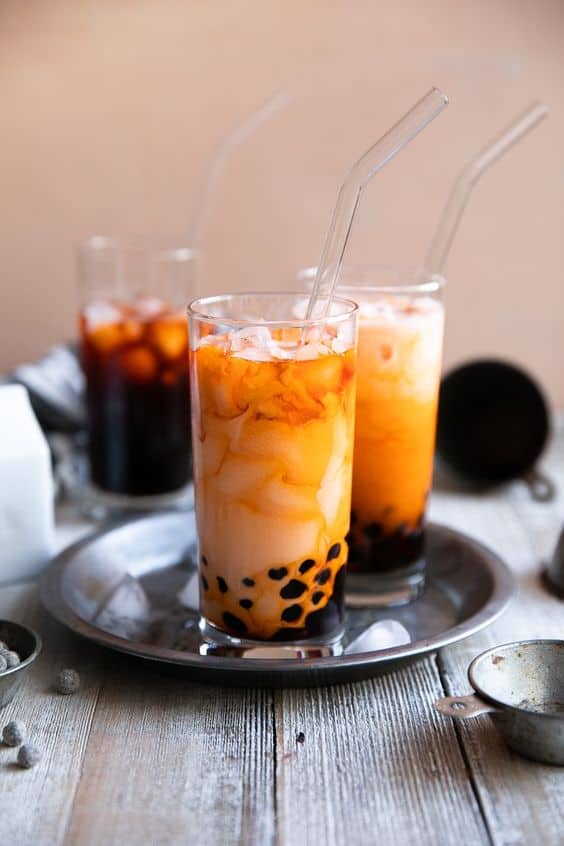 Ingredients :
2 tsp Darjeeling tea leaves
½ tsp Assam tea leaves
Boiling water
300ml milk (full cream for extra creaminess)
Honey (to taste)
Ice cubes
Method:
Begin by placing the Darjeeling tea leaves in a bowl. Add just enough boiling water to the bowl until the leaves are covered. Let it sit. Meanwhile, heat up the milk in a small saucepan until small bubbles appear at the edge, then pour it into the bowl. Cover and let steep for five minutes, then strain the tea leaves. Sweeten with honey to taste and let cool in the fridge while you cook the tapioca pearls.
To get that Instagram-perfect tiger stripe-like effect, tilt a transparent glass at a 45 degree angle (you can use a protractor if you wanna be super accurate) and spoon tapioca pearls into the glass from the top from all sides. Let them slide their way slowly down the glass to the bottom!
Add additional brown sugar syrup if you prefer a sweeter beverage, followed by ice cubes and the chilled royal milk tea
There you have it! 5 simple bubble tea recipes to try out at home! When this circuit breaker ends, everyone might be able to open a bubble tea shop, who knows? Tried one of the recipes stated here? Tag us on instagram (allforu_sg) to be featured on our page!
Stalk what we post and join the fun